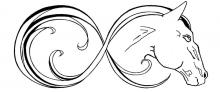 Equi-Soul is an Equine Assisted Learning and Personal Development program. EAL is a partnership with horses that will help people find solutions to challenges in their life.
This includes a wide variety of issues such as eating disorders, grief and loss, depression, anxiety, confidence issues, drug addiction, family discord, PTSD, teens with at risk behavior, and so on. EAL also provides opportunities for goal setting, task focus and accomplishment, and personal growth. Horses can teach us trust, respect, personal control, impact, boundaries and patience.
Exercises can be done on either horseback or the ground depending on the persons comfort level, so anyone can try EAL whether they're experienced around horses or not! All sessions are held in private at Lone Wolf Farm located in Burritts Rapids, Ontario (between Merrickville and Kemptville).
Contact Equi-Soul, Horses for the Soul